Back to Blog
Published on June 11, 2023
Top 10 tips for an efficient closing department - Tip 2: automatic Direct Deposit
it turns out that type of Direct Deposit technology you use has a big impact on the number of closings per month each staff person can close.
Creating an efficient closing department - Tip #2: automatic direct deposit
How does your closing department stack up against the best in the country. How do you get each person in your closing department to close more transactions ? This question matters because a closing / accounting person costs on average, $60,000 per year.
Our #2 tip: Use the right direct deposit technology. We have identified the most productive staff at brokerages across the country, and interviewed them to find out how the are so productive. The efficiency in the best run closing departments is much higher than you would think. Likely, it is much more efficient than your own brokerage. In our study, we found the best closers, will do the work of 4 accounting staff in a typical office.
In this series of 10 tips, we are going to reveal "how they do it". How is it possible that these closers process so many more transactions each month than the typical office ? We will also countdown the performance for the top 10 closers in America. The 9th place finalist's production will be revealed at the end of this article.
Our next tip: pay agents by automated direct deposit. In our interviews, all of the Top 10 closing departments do direct deposit of agent commissions. But these accounting staff explained that a company policy to pay agents by "direct deposit" is not enough. Every single top producing closer said that they "could not do their job" without the "right" direct deposit technology.
The Birth of Direct Deposit
The concept of direct deposit payments took shape in the 1960s when the banking industry embarked on an ambitious mission to modernize its systems. As the adoption of computerized technology gained traction, banks began exploring ways to leverage this power of direct deposit technology for their customers' benefit.
Initially, direct deposit primarily catered to corporate payrolls. Companies sought to streamline their payroll processes by electronically depositing employees' salaries directly into their bank accounts. This eliminated the need for paper checks and offered numerous advantages, such as increased security, enhanced efficiency, and prompt fund availability.

As direct deposit gained momentum, its adoption extended beyond corporate payrolls. Banks recognized the potential of this technology for a broader audience, and soon individuals were able to receive various types of payments directly into their accounts.
Choosing the right direct deposit technology
Many brokerages deliver direct deposit payments to their agents thru their bank's website. What the closing department does, is they log into their bank at the end of the day. Then they manually enter each agent commission payment. This approach is still widely used and it has the benefit of being a free service to most bank customers. By manually entering agent payments at the bank website, a brokerage can usually get fast payment transfers to the agents, but there is a big cost in terms of efficiency. It just takes alot of time to key in all those agent payments at the end of the day.
Another approach some brokerages use is called NACHA. The National Automated Clearing House Association (NACHA) was established in 1974 as a self-regulatory organization to oversee the development and administration of the Automated Clearing House (ACH) network in the United States. The ACH network was created as an electronic funds transfer system to facilitate secure, efficient, and cost-effective transactions between banks.
Within the banks ACH network, NACHA files delivered a format that is supposed to be standardized for transmitting payment information.These files are text-based. The closing department will use some technology to create a "NACHA file", then they will log into the bank website and manually upload the NACHA file. This technology is faster than the previous approach of manual entry of agent commission payments - but it holds serious security risks.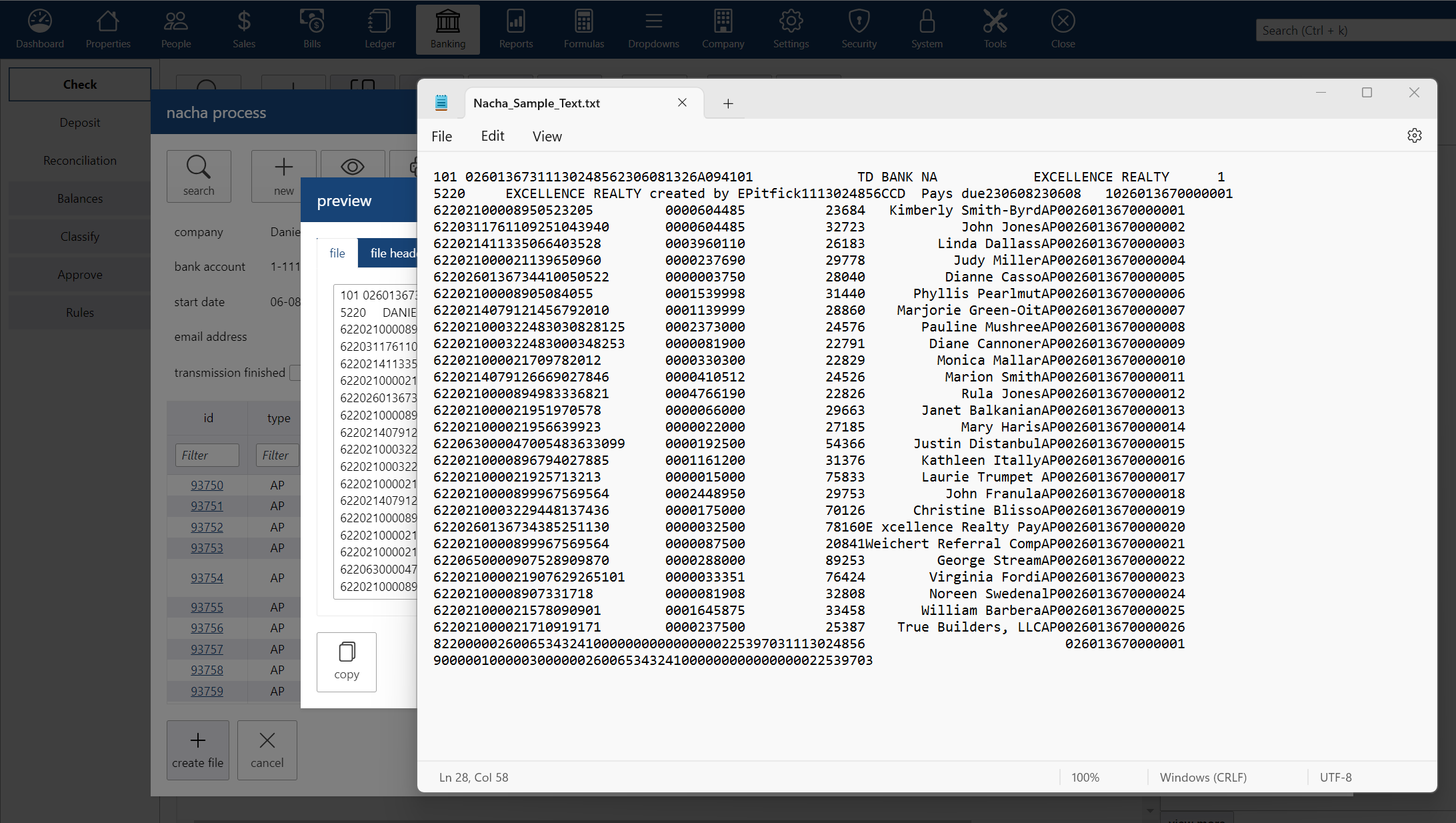 If you were ever to look at a NACHA file that you have stored on your computer (for upload to the bank), you will see that the files have everything a hacker needs to drain all the money from your agent's bank account. These files have the agent's full name, their bank routing number and their personal account number - all in plain text.
So, NACHA files are a way to improve closing department efficiency, but at a huge security risk.
For all the staff at every high-producing closing department in the United States, we found that they all use the next generation of direct deposit - API based secure automatic payment technology. The latest generation of direct deposit technology is used by some Real Estate software programs and some mobile applications. In our study, it is impossible for your closing department to get into the top 25% for closing department efficiency without using this technology. How it works is like this: The software or mobile application that you are using has a pre-defined relationship with either a single bank or a Merchant services company. Prior to processing any commissions, your accounting department has entered your agent's bank account information into your software which pre-saves the agent information with the associated bank or merchant services company. This is where the security comes from. When your mobile app or software "sets up" and agent to receive direct deposit, the software sends the agent name, routing number and account number to the bank using an encryption key known only to the bank. Then, the bank creates some random number that symbolizes the agent, and another random number that symbolizes the agent's bank account. These two random numbers are saved by your software - and the real routing number and account number that you entered when creating the agent account are never saved. This is the key point: you never want your software to store agent's real bank account information. With the API approach, you software saves only the random numbers that symbolize the agent and their bank account.
Maximizing efficiency with API direct deposits
Using the API approach, whenever the closing department processes a closing, your software program "knows" the agent payment information and it is "connected" to your merchant services processor. So with a single click, the closer is transmitting the information to the bank - in the background. The bank receives the payment instructions without NACHA files and without your staff having to log into the bank website. In this way, the bank receives everything it needs for overnight agent payment. No confidential agent bank information is saved in your software. And no time is wasted by your staff with extra steps to send agents their commission.

Tip #2 takeaway: Setup technology that can transmit agent direct deposit transfers using secure API technology. Make sure that the technology sends the payment instructions automatically, with no extra steps required by your closing department staff.
Now, as we count-down the top 10 most efficient closers in America from our study:
From our recent study, #9 was Jennifer from Century 21 in Wisconsin. Jennifer personally closes 322 transactions each month. While very impressive, the numbers for the Top 3 finalists are much higher. Read each of the 10 tips in this series to see the production numbers for the most productive closer in America.

watch this short video about using direct deposit tech in darwin.Cloud
Ready to evolve?
Request a demo or learn more about the power of darwin.